चांदनी सिंह इन दिनों पूरी तरह वर्किंग मोड में हैं। सोमवार को उनकी नयी भोजपुरी फिल्म बद्रीनाथ का टीजर रिलीज हुआ तो सबने चांदनी सिंह सहित पुरी टीम को बधाई दिया। इस टीजर का सभी लोग इंतजार कर रहे थे। इस एक्शन टीजर में फिल्म के नायक संजीव मिश्रा के साथ साथ चांदनी सिंह, अंजना सिंह, प्रियंका पंडित, संजय पांडे और अनुप अरोड़ा नजर आरहे हैं। धीरू यादव निर्देशित इस फिल्म का निर्माण सुभारांश रॉय और जुगल किशोर माहेश्वरी ने श्री चारभुजा प्रोडक्शन के बैनर तले किया है। इस फिल्म को एक शानदार फिल्म चांदनी सिंह मानती हैं। वैसे आपको बतादें कि इस फिल्म बद्रीनाथ के पोस्टर में चांदनी सिंह एक बुरखाधारी मुस्लिम महिला की भूमिका में नजर आरही हैं। इस फिल्म के नायक संजीव मिश्रा और निर्देशक धीरू यादव की तारीफ करते हुये चांदनी सिंह कहती हैं ये दोनो ना सिर्फ अच्छे इंसान हैं बल्की काफी प्रतिभावान भी हैं। इनके साथ काम करके काफी मजा आया। वैसे आपको बतादें कि भोजपुरी एक्ट्रेस चांदनी सिंह भोजपुरी सिनेमा के टॉप हीरो के साथ काम कर रही हैं। भोजपुरी सुपरस्टार पवन सिंह के साथ वे शपथ फिल्म कर रही हैं तो सुपरस्टार खेसारी लाल यादव के साथ वे मेरी जंग मेरा फैसला में एक स्पेशल डांस करती नजर आयेंगी। साथ ही वे अरविन्द अकेला कल्लू के साथ मैं नागिन तू सपेरा में भी नायिका बनकर नजर आने वाली हैं। इनके अलावा वे यश मिश्रा के साथ भी बतौर नायिका काम कर रही हैं। और एलबमों की तो वे क्वीन हैं।
mumbai, Though a director's actor, Mir aims to follow his distinct trait in his upcoming movie Lateef to Laden. He has given his all in portraying an interesting yet powerful character of a militant fond of Osama Bin Laden. The dark comedy, a Prem Kumar production, will release on the 26 th of this month. The film is sure to leave audiences spellbound thanks to an entirely altered look being portrayed by Mir. When enquired about his pursuit of versatile appearances he said, "I was always keen about experimenting with looks even before I ventured into the film industry. I remember keeping a goatee long before Aamir's Dil Chahta Hai released. It was difficult initially, but I gained confidence to continue experimenting. That was the main factor responsible for getting me a role in the film Phantom where the character has 26 passports and looked different in all the get ups.The Marlon Brando and Al Pacino fan further commented on his take on the movie, "I really liked the concept of Lateef to Laden as a dark comedy and I am sure people will do too. I always make sure to support independent films made in Jammu and Kashmir, and this will be our small contribution to the local film industry as well". The actor who hails from Srinagar started his career as a model in 1999. He has also recently completed his four-year stint in Kashmir Daily, a film focusing on the drug abuse and unemployment in Jammu and Kashmir. Mir has been proactive in making other short films on his home state, refusing any pay for these. Mir strives to encourage filmmaking among residents of the area. Apart from shooting for the Tamil film Kaatru Veliyidai directed by Mani Ratnam in 2017, Mir has also dabbled in direction. Bed No. 17 was also shot in India's northern most state where the film has been screened in several film festivals. He is a living pioneer of Kashmiri cinema whose versatility is akin to none.
By Dr Anthony Fernandes
Bollywood heartthrob Varun Dhawan  and Bollywood diva Anushka Sharma starrer Sui Dhaaga is finally hitting the silver screen on Friday—September 28. The film, which has already created a lot of buzz on social media, is expected to earn a whopping amount of Rs 10 crore on the opening day of its release. The first reason why it is expected to have a grand opening at the box office is its strong promotion.
From Bollywood celebrities to fans, everyone has been performing the Sui Dhaaga Challenge and therefore the promotion game of Sui Dhaaga is going too strong. Another reason why Sui Dhaaga is expected to witness a big opening is that of the star cast—Varun Dhawan and Anushka Sharma who has a massive fan base.
by Dr Anthony Fernandes
Editor
Legendary actor Raj Kapoor's wife Krishna Kapoor passed away Monday morning after a cardiac arrest and Bollywood is in shock. The matriarch of the Kapoor Khandaan, she was the backbone of the family, binding it in a single thread. Just like Raj Kapoor, Krishna Kapoor has always been the guiding force for the family and was known for her elegance and fortitude.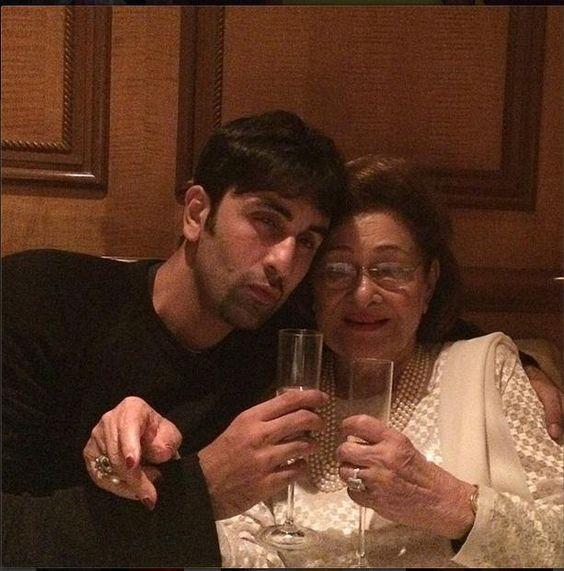 Krishna Malhotra married Raj Kapoor in May 1946. Her father was the maternal cousin of Prithviraj Kapoor. They had an arranged marriage when Raj Kapoor was 22 and she was just 16. 
However, it is said that Raj Kapoor and Krishna Kapoor's marriage was rock solid. Together they have 5 children- Randhir Kapoor, Rishi Kapoor and Rajiv Kapoor and two daughters Ritu Nanda and Rima Jain.
Music is often said to be literature of the heart, it's what speaks when words fail. Giving the reign to millions across the nation to choose India's young singing sensation will be &TV's first ever live singing reality show for kids, Love Me India. Developed by Essel Vision Productions, the concept will revolutionize the current reality show space as the format gives the people of India the highest voting power. Opening the live battlefield amongst kids aged 5-15 years, the show will bring forth talent from different zones of India – North, South, East and West. With 48 young contestants vying to win audiences hearts through their singing talent, Love Me India will go live on 22nd September 2018, every Saturday and Sunday at 9:00 pm only on &TV.
Joining India in the voting process and helping them choose their singing megastar will be three musical maestros. Making their debut in the judging territory will be the High Rated Gabru, Guru Randhawa with elegant and soulful singer, Neha Bhasin. The industry's favorite judge with over 700 blockbuster songs and the biggest live shows worldwide to his credit; actor, singer, composer, India's superhit machine Himesh Reshammiya will also be seen joining the judging panel. Each of the four zones will be led by a captain who will play the role of a guide and mentor, teaching and motivating these young singers and further nurturing their talent. Leading the West zone with full force will be Maharashtra's favorite, Abhijeet Sawant, while the Gulabo singer Anusha Mani will reign over the South zone. Spreading her charm and leading the talent of the East zone will be Bhoomi Trivedi of Ram-Leela fame, along with actor, singer and pride of Punjab, Navraj Hans who will be seen taking control over the North zone. Returning to the reality stage owing to his passion for music and love for anchoring will be the versatile, Meiyang Chang along with the stunning, Sunanda Wong.
Movie cast: Nawazuddin Siddiqui, Rasika Dugal, Tahir Raj Bhasin,Rishi Kapoor,Danish Husain
Director: Nandita Das
Saddat Hasan Manto was born to be filmed. His life and much-too-early-death teems with so much drama, and is drenched in so much history, that it is surprising the movies took so long to put Manto in the centre of his own narrative  , on the face of it, there couldn't have been anyone better than Nandita Das to helm the movie.Manto the movie  goes back to a time when the subcontinent was being hacked apart, and carved into India and Pakistan, with Manto embodying the tragic senselessness of the Partition, leading to those crucial questions: where did he belong? Was he condemned to rootlessness and restlessness? And finally, damnation? Bombay, 1946. Our man Manto (Siddiqui) is on the cusp of everything that's interesting in town. He is part of the progressive artists' movement, bantering with Ismat Chugtai (Deshpande). He spends a great deal of time with the up-and-coming handsome star Shyam (Bhasin), trawling through Bombay's burgeoning film industry and bustling studios, searching for inspiration and paying work. Manto's talent is never in any doubt, but his streak of self-destruction is clear early on in his flashes of temper and willfulness: he is a handful, for his friends, and his wife and constant companion Safiya (Dugal). And then comes 1947, and Manto is forced into making a choice. India or Pakistan? He chooses the latter. His struggles with narrow-minded authority figures and binge-drinking, and we see the downward slide of a man squandering his prodigious talent, and the affection of his loved ones. Interesting movie to watch
Dr Anthony Fernandes
Editor
Showtimes Cinema and SBM Studios in Association with Ninjoor Pictures is all set to roll out their ambitious international venture – He Is Back!Produced by Suresh Sharma who last produced the gritty drama Halla Bol and Suresh Babu Malge who also produced many movies and directed by Cheetah Yajnesh Shetty who helmed Hum Tumpe Marte Hain. He Is Back was launched in Dubai where who's who of the world were present. The movie was inaugurated with the lamp lighting by Her Royal Excellency Of Thailand Mom Luang Rajadarasri Jayankura , Mr.Kirsan Ilyumzhinov, Former President of the Republic of Kalmykia in the Russian Federation and Prince Firooz Alexander Sefre, Member of the Royal Institute of British Architects Chartered Architect Riba, England.Other eminent guest were Edmond Avakian, Thomas Fung, Fatemah Hossain Zamani and Lazar Jakovljevic.
Inspired by Bruce Lee, the movie revolves around the theme of how a poor boy changes the world! The film introduces Abb Li in the lead role who happens to be a big worshiper of Bruce Lee. It is learnt that Abb Li is such a loyal follower of Bruce Lee that he has transformed his body also to Bruce Lee style.
The movie also introduces actress Alina Ilyumzhinov in the lead role along with an ensemble cast of Hollywood biggies!
Story by Cheetah Yajnesh and sound by Resul Pukutty, the film has been screenplay and dialogue by David White and involves big international names in the movie making business including DOP Ross Clarkson and world renowned action director Kecha Khampakdee. Rockline venkatesh  gave the clap and Dr B R Shetty, Abu Dhabhi switched on the camera. AmarjIt Shetty is co producer of the film and William Bond is Executive Producer.
By Dr Anthony Fernandes